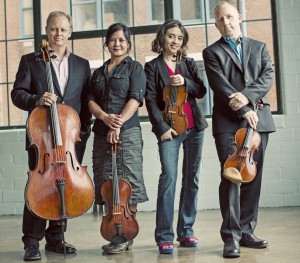 On its website, Chipotle boasts :"We also work pretty hard to find the right music to play, because everybody knows the best parties live and die with the DJ." The chain, which has more than 1,400 locations, has been working with Golub for four yearsto create its hip atmosphere. What our company does is, what I like to call, creating a musical identity," Golub said.Were sourcing out unique material that has a freshness about it and a sense of place, if you will." Golub, who called Internet radio stations and employee iPods some of the "worst decisions you could make" for retail music sources,said there are days he'll listen to as many as 300 songs before finding a potential track for a client's playlist. Unlike Internet radio stations that frequently determine song selection by genre, Studio Orca selects each song individually based its own criteria and the client. Nothing heard on traditional radio or "mainstream" is used. Tracks must fit the desired vibe of the client's space, and the studio listens for matching baselines, lyric content and recording quality of each song to ensure they pair well with each other. The team scours music blogs for new material, and Golub said he attends as many as four live showsa week inNew York Cityto scout bands for new music. Environment is also a factor in choosing tunes, Golub said. His team considers a retailer's whole space, down to the type of chairs and number of people it can hold. Playlist success isn't just measured by the number of heads bobbing.Clients see tangible impact from the music, Golub said. Including Golub, Studio Orca has only five employees one of whom is part-time. He's picky about who he hires, meaning he also has to be picky about his clients. Golub was tight-lipped when it came to discussing exactly where he scopes out music for his clients, but the music itself is no secret. Studio Orca works hard to answer inquiries about the music playing in its clients' stores. If a customer asks what song is playing, theclient can forward the inquiry to Studio Orca's email, and will get an answer within 48 hours.
FiiO's nifty $200 portable high-resolution music player is a knockout
Louis Symphony Orchestra has big plans for the fall. Those include the fifth annual Red Velvet Ball, with cellist Yo-Yo Ma as the galas headliner; performances of Benjamin Brittens masterpiece Peter Grimes here and (on the composers 100th birthday) at Carnegie Hall; the return, after a long absence, of violinist Joshua Bell; and the local premiere of John Adams Saxophone Concerto with soloist Timothy McAllister. Standout conductors this fall include music director David Robertson, Stephane Deneve, Peter Oundjian and the beloved Nicholas McGegan. In the SLSOs new-music partnership with the Pulitzer Foundation, two principal players will shine. Daniel Lee will perform the Kodaly Sonata for Solo Cello, while William James is the soloist in the Xenakis Rebonds. Each season of the St. Louis Chamber Chorus has a theme; this year, its The Ancients Speak. Each concert is focused on one language of antiquity: Latin, Hebrew, Old English, Greek, Egyptian, Old Church Slavonic. The season begins Oct. 6 with Greek at the Ethical Society, and continues with Hebrew on Nov. 10 at United Hebrew Congregation. As always, artistic director Philip Barnes has chosen a selection of a cappella music from very old to brand-new, familiar and anything but, including new commissions; as always, the venues vary, each chosen for its fit with the repertoire. The St. Louis Classical Guitar Society hits the half-century mark this year: 50 years of presenting top-notch guitarists, along with the occasional lutenist, early music soprano or flamenco dancer. President Bill Ash and his board have assembled a promising season, starting with headliner Jason Vieux, Duo Noire (Thomas Flippin and Chris Mallett, the first African-American guitarists ever admitted to the Yale Music School) and Croatian guitarist Ana Vidovic. Guitar recitals are an intimate art, and the Guitar Society is widely recognized as one of the best of its kind in North America.
The Internet Has Ushered in a Golden Age of DIY Music
FiiO's nifty $200 portable high-resolution music player is a knockout The Audiophiliac spends some quality time with FiiO's little X3, an awesome 192kHz/24-bit music player/headphone amplifier; it also sounds sweet with MP3s. The FiiO X3, shown with Hifiman HE-400 headphones (Credit: Steve Guttenberg/CNET) I've used an iPod Classic as my on-the-go music player for years, while I was waiting for something better. Sure, Astell & Kern has two perfectly fine players, the $699 AK100 and the $1,299 AK120, but FiiO smashed the high-resolution music player price barrier with the X3 , which lists for $299, but which sells for $200 on Amazon and most other online retail sites. I've favorably reviewed FiiO products before , so I had some reason to expect the X3 would be pretty decent, but it's way better than that. Granted, the X3 can't match the Classic's 160GB storage capability, it has just 8GB of internal storage, but there's an expansion slot for microSD cards of capacities of up to 64GB. The Classic's menu navigation is impossible to beat, but from here on out the X3 takes the lead, it's a much better sounding player, and not just because it plays high-resolution files. The metal case feels really solid, and measuring a tidy 2.2×4.25×0.6 inches the X3 is nearly the same size as the Classic. The on-board digital converter is a Wolfson WM8740, a true audiophile-grade device. Connectivity runs to USB 2.0, a 3.5mm headphone jack, 3.5mm analog stereo output, and a 3.5mm coaxial digital output. The 2.4-inch TFT display is easy to read. The X3 drives low- and high-impedance headphones, from 16 to 300 ohms. FiiO X3 (Credit: FiiO) The X3 has a 3,000mAH lithium polymer battery, and FiiO claims a 10 hour play time with FLAC, WAV, WMA, and ALAC files with up to 192kHz/24-bit resolution. The X3 also handles AAC and MP3 files. I started listening to the X3 with a set of Logitech UE 900 in-ear headphones.
He went from being another teen singing on the Internet to a massive international star thanks to some guy who found him. Of course, he's now got massive label backing and production (in every sense), but his origins are in the do-it-yourself ethic thats allowing all these artists to grow from literally nothing but talent and some social-media savvy and perhaps a little luck. And I think thats whats so exciting, especially for someone young like me. Social media, which has evolved from a meaningless buzzword to a meaningful buzzword, has truly revolutionized the music industry by threatening it in a huge way. Music discovery is cheap now. If your goal is to amass an Internet following and some real, lasting buzz, you can still start from scratch. The Internet means that DIY ethics can lead to the kind of results previously reserved for label-backed artists with access to traditional mainstream channels (terrestrial radio, print advertisement, large-circulation print music press). This is exciting. This is progress. Chance the Rapper was mocked in high school for his musical aspirations. Forbes picked up on his mixtape after it blew up online, and now hes got 32,287 listeners on Last.fm. Bishop Nehrus story is similar, though his success isnt yet at the scale of Chances. King Krule followed perhaps the most mysterious pattern for HYAs: He started out small with a bunch of little-known releases, and managed to grow gradually, with a boost from a guest spot on a bigger release . He eventually found his way to a big presence primarily through Internet buzz.