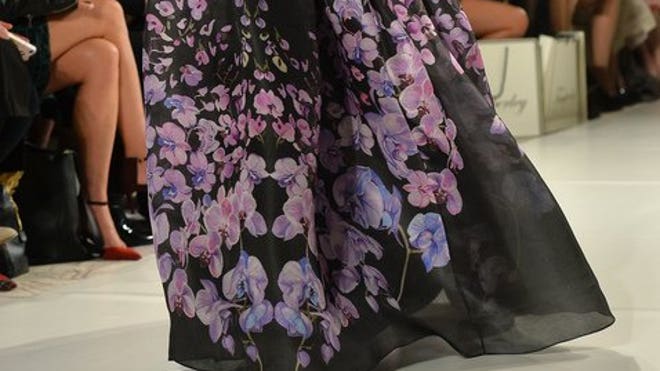 In an old granary building behind King's Cross Station, Paul Smith kept to his signature style with a collection of elegant matching suits in vivid colours ranging from clean white and bright blue to sunshine yellow. Transparent silk voile shirts were unbuttoned low to reveal a sliver of skin and tucked into high-waisted, 1970s-style wide trousers or shorts, for an effortless spring/summer cool. Blocks of colour were interspersed with traditional patterns, from a silk mix jacket with a checkered print to a blouse printed with daffodils matched with wide yellow trousers. Earlier, designer Alice Temperley took her luxury line Temperley London up a notch with a fairytale collection of sweeping gowns in gentle pink, blush, lilac, mint and white. There were long dresses embroidered with hand-cut silk flowers and with lace and crystals, gowns printed with a pattern of purple orchids and lace created out of the patterns of trailing leaves. "It's about transporting you into another mood. We all live such normal lives, with work, it's nice to have fantasy clothes," the designer told AFP backstage after the show. The label recently appointed a new chief executive, Ulrik Garde Due, who will use his experience at Burberry and Celine to promote it as a luxury lifestyle brand. "Now we've got the (everyday) Alice line, we've got a good business, we don't have to be so commercial with the runway. We can be more creative," Temperley said. At the other end of the market, fashion chain Topshop unveiled its latest Unique collection in a tent in Regent's Park, staging a "Heat Rave" filled with all the best bits of summer. Under the gaze of chief executive Philip Green, model Kate Moss and US Vogue editor Anna Wintour, the models sported loose sun dresses, rucksacks packed for the beach and slip-on mules as they walked along the grass floor. There were ethnic patterns and vibrant colours reflecting the blue of the sky and sea, while a V-necked white dress was adorned with mirrors to reflect the glittering of the sun. Sunday also saw the latest collection from Mary Katrantzou, who took shoes as her inspiration for this season's take on the graphic prints that made her famous. The leather detailing on a pair of brown brogues was magnified and printed onto a halterneck dress, while other outfits featured oversized zips and laces.
"(Young) designers are seeing growth in American markets, various different Asian territories; they're seeing growth in mainland Europe but (mainly) a lot of opportunity through America and Asia." Well-known British luxury goods brands such as Burberry and Mulberry are staples in many stores around the world, but newer names such as Christopher Kane, Mary Katrantzou and Peter Pilotto are also proving popular across the pond. "I am a huge fan of London Fashion Week because we have so many great designers that we sell at Neiman Marcus," said Ken Downing, fashion director at the U.S. store. "The excitement over pattern and print has really happened here in London … (Customers) love our designers from London." Luxury spending in the United States collapsed after the 2008 financial crisis but returned to pre-crisis levels by 2012. Increased confidence among affluent spenders have boosted sales and encouraged luxury brands to step up investments there. More foreign shoppers are also visiting stores as the U.S. government eases visa restrictions to attract more tourists. DESIGNER-HUNGRY ASIA Showing a collection of bright printed dresses and skirts in shades of tangerine, watermelon and pale blue, Scottish designer Holly Fulton said she was keen to expand her brand in America after receiving positive press reviews there. "We're quite interested in doing more in the States at the moment … We're keen to expand on that in the coming year," she told Reuters, adding that Asia was also an important market. "Asia has been by far the strongest for us.
London Businesses Learn How to Trade With Middle East
Finance Mon, Sep 16, 2013, 4:47 AM EDT – U.S. Markets open in 4 hrs 43 mins London Businesses Learn How to Trade With Middle East Press Release: Big Cat Group 47 minutes ago Print LONDON, September 16, 2013 /PRNewswire/ — London's entrepreneurs with overseas vision met with senior representatives from the Ajman Free Zone Authority in the United Arab Emirates, at London Chamber of Commerce this week, to unlock the business opportunities across the Middle East. (Photo: ) Business elite from the Ajman Free Zone Authority – Nader Eldesouky, deputy general manager, Rishi Somaiya, director of sales and marketing, and Ali Fahmi, head of customer service – met with city professionals to discuss Free Zones and the advantages to working across Ajman and the country. They were also joined by guest speakers Matthew Smith, director general of the Middle East Association, and Abdeslam El-Idrissi, director of trade services from the Arab British Chamber. Nader Eldesouky, deputy general manager, from Ajman Free Zone Authority, said: "I thoroughly enjoyed meeting with London's businesses to discuss the lucrative investment opportunities in the UAE and how this can benefit companies across the Capital, promoting trade and industry between our two countries." Matthew Smith, director general of the Middle East Association, said: "I enjoyed meeting with all types of businesses at the event. This was an ideal opportunity to combine our passion of promoting trade and relationships across the UAE with the great prospects across Ajman's Free Zones." Abdeslam El-Idrissi, Director of Trade Services from the Arab British Chamber, said: "This was a great opportunity to meet with like-minded people who were interested in expanding their businesses to trade across the Middle East. We hope that today we've been able to facilitate some trading objectives for those wanting to begin trade across the Arab world." Ajman Free Zone Authority's Deputy General Manager, Nader Eldesouky, further commented:"Ajman Free Zone is deemed as one of the fastest growing free zones in the region and it will continue to grow over the years because time and energy is invested into the customer and the services offered to them." Rishi Somaiya, director of sales and marketing, added: "Ajman Free Zone Authority is the first to offer flexible payment facilities to its clients in up to twelve easy and convenient instalments. This payment facility will act as a springboard for entrepreneurs who find entry cost to business prohibitive and result in development." Elaborating on the Emirate's many other attractions, Mr Somaiya explained that "inexpensive energy, an extremely economic wage structure, total exemption from all import and export duties and exceptionally low handling charges, gives AFZA a collective competitive edge." Most recently, the Ajman Free Zone Authority has also launched a new licence category for e-commerce enterprises, in addition to other existing licenses. In addition, the Free Zone offers various licensing options ranging from commercial to trading licenses, service to industrial licenses and provision of a competitive warehousing facility, called Smart Warehouse. Smart Warehouse allows investors to lease out space starting from as little as 100 sqm and as the facility is scalable, multiple units can be taken up to suit the clients' requirements. Situated at the foot of the Arabian Gulf, the Ajman Free Zone is widely regarded as the ideal location for the supply of goods and services for the domestic and regional markets, allowing investors to reap the benefits. Other lucrative advantages to investing in Ajman Free Zone include inexpensive energy, an extremely economic wage structure, total exemption from all import and export duties and exceptionally low handling charges. More information can be found at Notes to editor
London shares rise as Royal Mail selloff launched
London shares rose on Thursday as the market received a boost from the launch of the privatisation of the Royal Mail, dealers said.AFP/File LONDON (AFP) London shares rose on Thursday as the market received a boost from the launch of the privatisation of the Royal Mail, dealers said. At 8:38 am, the benchmark FTSE 100 index was up 10.92 points ot 0.17 percent at 6,599.35 points. The government said an initial sale of shares in the state-run postal service will occur within weeks. "Her Majesty's Government today announces its intention to proceed with an initial public offering of Royal Mail," said a joint statement, which added that the IPO is "expected to take place in the coming weeks". Royal Mail is to list on the London Stock Exchange, while the coalition government said it would "retain flexibility around the size of the stake to be sold". The government had in July announced plans to privatise more than 50 percent of Royal Mail following a major restructuring of the organisation in recent years, triggered by fierce competition from email. Royal Mail was expected to be Britain's biggest privatisation since the 1980 sell-offs of former nationalised giants British Gas and British Telecom. Media reports say the part sale of Royal Mail could be worth up to ??3.0 billion ($4.74 billion, 3.57 billion euros). The government previously said that it would take on Royal Mail's historic pension deficit. William Morrison shares jumped 3.67 percent to 308.10 pence as the supermarket chain announced flat interim sales and lower profit but raised the interim dividend by 10 percent to 3.84 pence per share. The company said turnover was steady at ??8.9 billion pounds in the six months to August 4, though with like-for-like store sales dropping 1.6 percent and pretax profit sinking to ??344 million from ??440 million in the year-earlier period. "We anticipate an improvement in our sales performance during the second half and accordingly the board believes the group's performance for the full year will be broadly in line with its previous expectations," Morrisons said. Tui Travel added 2.11 percent to 362.90 pence and British Airways owner International Consolidated Airlines gained 1.70 percent to 317.40 pence. Temporary power supplier Aggreko 2.30 percent to 1,613 pence.